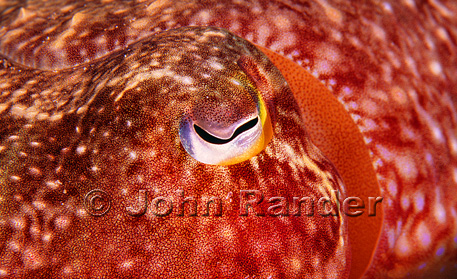 Do you enjoy taking wildlife photos, and do you like diving ? You will find some tips here on getting started, but watch out, underwater photography can become a serious obsession!
Where to find information about underwater photography?
You will find many websites like this one coming from photographers, suppliers and equipment manufacturers. You can also get advice from photographers in your diving club. While travelling, talk with them on the dive-boat, many like talking shop and are ready to explain their equipment choices. In addition, PADI and other organizations offer classes, often in world-class diving sites.
What equipment is needed?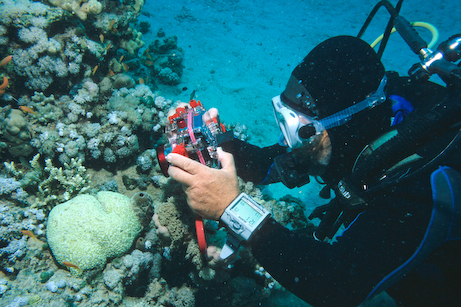 You will need a digital camera, an underwater housing, and, if you want to capture the vivid colors, an underwater flash mounted on an adjustable arm.
How to choose a digital camera?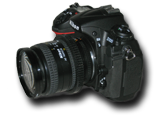 Everything depends upon your interests and your budget: a compact (point and shoot) digital camera is enough to take snapshots of your buddies at a deco stop, or capture some souvenirs of your trip. The same sort of camera equipped with a "close-up" lens and a separate flash will take really nice images of sea life on the reef. A digital reflex (DSLR) camera will allow you to fully benefit from the potential of dedicated macro or very wide-angle lenses to take even more interesting views (see for example my comments in Digital UW photography with the Nikon D300). But be forewarned, an underwater housing costs as much, even much more, than your camera, and despite all the care you can give while assembling your equipment, all underwater gear risks to leak one day (requiring a replacement of you camera). So do not buy a camera model that's being discontinued, nor one that is at the limit of your budget…
How to choose an underwater housing?

The first thing to understand is that every underwater housing is designed for a specific camera model (caused by compatibility requirements for camera control positions). Nearly all compact digital camera housings are made of clear polycarbonate plastic. Verify the possibility to mount additional close-up or wide-angle lenses, the existence or possibility to mount a diffuser for the camera's integrated flash, and the feasibility of mounting an external underwater flash. The range of selection is much larger for a DSLR. The plastic housings, cheaper than the aluminium models, allow you to see if there's a leak. The aluminium housings, designed for intensive use, are often equipped with a leak alarm. Don't forget to include the cost of additional dedicated ports for each of the lenses you want to use underwater.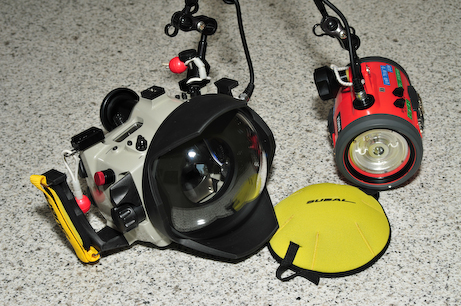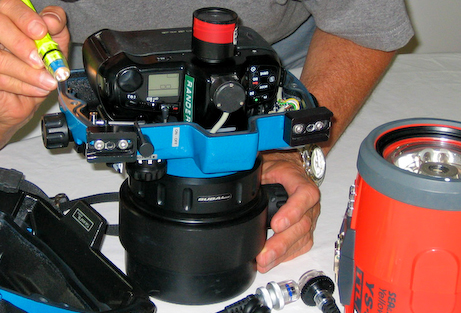 Is a separate underwater flash necessary?
A compact digital camera's built-in flash is often sufficient on close-ups, provided that a diffuser is used. However, thebuilt-in flash will produce poor images once you've moved away from the subject. A separate flash, lighting the subject from the side, is more versatile and will not suffer from this effect (to learn more click on the new link below).

Image of a Fridman's Dottyback, taken in the Red Sea, degraded by "snow" (particles in suspension) lit by a flash too close to the lens port.


Your diving skills or underwater adaptation
This is a crucial point: the diver-photographer should really be at home in the sea. Position control is critical for image sharpness, and even for the respect of the reef itself. The BC jacket must be fully mastered. The problem becomes even more serious with a large DSLR housing equipped with external flashes. If this skill is not yet acquired, be honest, you're not ready yet. Along the same line of thought, your dive shouldn't be the moment to discover your camera equipment!!
A tip to start off well
Begin by taking close-up photos. The technique is fairly easy and you will quickly improve. In addition, close-ups or macro-photos are sure to give color and interest to your first presentations. There are always things to discover in such views, especially since few divers really examine the reef closely, but be careful, image sharpness is important!



How to find interesting subjects?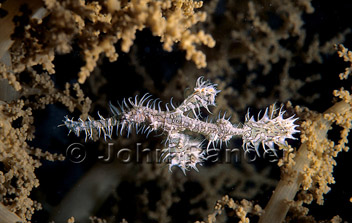 Open your eyes and look! The underwater photographer is a "curious beast, moving along at his own rhym," capable of frustrating any dive-buddy on the reef… "Critters" are often camouflaged or very small, and difficult to find. So take your time! In addition, it's worthwhile beforehand to make an effort to learn about your subject's favorite habitats, lifestyle, size, color-variations, etc. (reading, internet, and in discussion with the dive-master or local guide).